Thatch Safety
As with any building, a few simple precautions should be taken to safeguard your thatched property – especially in connection with its chimneys. For example:
If you use wood, burn only dry, seasoned wood.
Fit an insulated inner chimney flue all the way up to the chimney pot.
Have your chimney/flue checked for tar deposits and get the soot swept away regularly.
Remove the hat/cover on chimney pots. Burning particles from an inappropriate stove start-up tend to bounce off them and damage the thatch rather than rise clear of the roof.
Get the mortar/brick condition of your chimney checked by a thatcher before starting any re-thatching work. Where it's hidden by existing thatch, especially, the chimney may need repairing – and a fire barrier installed between the chimney and the thatch.
Consider buying a new generation clean-burn solid fuel appliance, or better still a 90% efficient masonry stove, to replace an old inefficient log burner. Avoid using too much paper and kindling to light fires; and ensure the paper is placed safely under the kindling and not on top. Do not cause the fire to roar.
At evening's end open the air baffles on your appliance/flue wider, and allow the fire to burn out to avoid tar deposits forming overnight.
Be sure to get your electrical wiring checked.
At the same time, install sensitive electrical breakers in the consumer box, and, to avoid rodent damage, have the wiring channelled through steel ducting in the roof space.
Do not burn bonfires near the property.
Finally - make flat roofers aware of the thatch before they begin using their blow torches.
Exposed Wiring
Running inside the roof and touching the thatch, this dangerous DIY wiring was discovered by Dominic Meek while he was stripping away the old straw. If the live wires had become wet or been chewed by a rodent any one of them could have started a roof fire. East Anglia Master Thatchers Association recommends all wiring should be channelled through steel ducting in the roof space.
Straw Removed
This roof was in such poor condition the thatch had to be completely removed to allow Dominic to replace many of the rafters and carry out major timber work. The fireproof covering is held down with counter-rafters and new battening.
Fire-proof Barrier
Here, the fireproof membrane covers the entire roof. By creating a barrier between exterior and interiorand, it provides more time for the fire services to extinguish a roof blaze before it reaches the building's main timbers.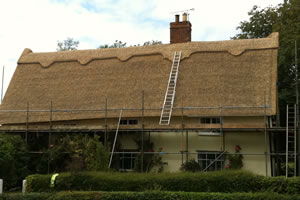 Thatch Completed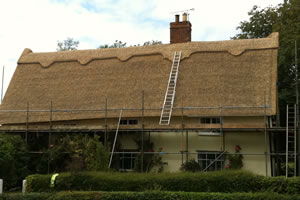 With its fireproof covering now neatly and discreetly in place, the roof has been beautifully thatched in long straw, complete with a block-cut ridge.